The following is a list of episodes in the Disney XD Original Series Kickin' It. Bobby Wasabi Martial Arts Academy is known as the worst dojo in the under-performing nationwide Bobby Wasabi chain. To improve the dojo's image the local Bobby Wasabi Crew and their sensei Rudy enlist new kid Jack as a member and to teach them about life, karate and friendship.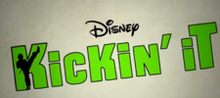 Season
Episodes
Originally aired (U.S. dates)
Season premiere
Season finale
1
21
June 13, 2011
March 26, 2012
2
23
April 2, 2012
December 3, 2012
3
N/A
April 1, 2013
N/A
Episode list
Edit
Season 1 (2011/12)
Edit
No. in

series

No. in

season

Title
Directed by
Written by
Original air date
Prod.

code

U.S. viewers

(millions)

1
1
"Wasabi Warriors"
Eric Dean Seaton
Jim O'Doherty
June 17, 2011
101
1.0[1]

In Seaford High School, the new kid Jack (Leo Howard) meets three boys, Jerry, Eddie, and Milton. They all do karate and Jack joins Jerry, Eddie, and Milton at lunch, and soon are picked on by red belts in the Black Dragon Dojo and Jack tries to settle things and gets in a fight with kids from the rival dojo, the Black Dragons, that at the time, Kim was a member of the Black Dragons. Jerry, Eddie, and Milton learn from their sensei, Rudy (Jason Earles), that the Bobby Wasabi Martial Arts Academy is in danger of closing. So Jerry, Eddie and Milton convince Rudy to get Jack to join after he crashes through the wall. Rudy lies to Jack and says he will go to juvie if he does not join and helps them get 2 belts, the dojo will close down. Later Rudy let his secret slip and Jack quits until he hears the disappointment of his friends. Jack joins to help them win the tournament. Kim competes against Jack, but after the Sensei for the Black Dragon cheats, Kim quits and does not fight Jack. Jack does a Bobby Wasabi move to win the tournament and keep the dojo running. Also in this episode, Kim from the Black Dragons changes to Bobby Wasabi`s dojo.

Guest stars: Loni Love as Marge, Wayne Dalglish as Frank, Ian Reed Kelser as Sensei Ty, Bryne Offutt as Milton's Dad, Chris Coppola as Officer Bloat, and Steve Terada as the Black Dragon with nunchucks, who was uncredited Co-stars: Frank Pacheco as Huge Guy and Walten Pridgen as Man Note: Reuben Langdon was the stunt coordinator in this episode. The name "Wasabi Warriors" was the series original name. 

2
4
"Fat Chance"
Eric Dean Seaton
Dan O'Keefe
July 8, 2011
105[2]
0.9[3]

After Milton almost falls trying to place his spelling bee trophy next to Jack's Gymnastics trophy, he is caught by one of the janitors, who the kids eventually find out is a former sumo wrestler. After getting him fired because Milton asked to see his victory dance, the kids decide to help get him back into wrestling by inadvertently having him wrestle the guy who cost him his title. Meanwhile, Rudy fights with Lonnie from Reptile World for a storage space in the basement of the mall, after the closing of a magic store. Lonnie gets the space but later gets crushed by Nakamura.

Guest stars: Peter Oldring as Lonnie and Peter "Navy" Tuiasosopo as Yoshi Nakamura Co-stars: Americus Abesamis as Yamazaki and Paul Tigue as Principal Burke Note: Reuben Langdon was the stunt coordinator in this episode. 

3
3
"Dummy Dancing"
Sean McNamara
Byron Kavanaugh
June 15, 2011
107[2]
0.9[4]

Truman, a bratty kid whose dad controls the mall's security, captures a video of Eddie practicing for the school dance with a punching dummy and uses it as blackmail. In order to protect Eddie from online embarrassment, the crew bands together and uses Jack's martial arts skills and Jerry's dog communication skills to sneak into Truman's dad's office and obtain the evidence. Meanwhile, Lonnie's pet iguana eats Rudy's prized grain of rice that has the wasabi code engrave on. They try to trick the iguana to think the season is changing because it goes once a year and it already went. Rudy and Lonnie regains the grain of rice but is eaten again by the iguana.

Special guest star: Reed Alexander as Truman Guest stars:: Peter Oldring as Lonnie and Brooke Dillman as Joan Co-stars: Clinton Jackson as Mr. Squires and Chelsey Bryson as Heather Note: OnDemand mistakes Truman with Turner on this episodes. Also, Reuben Langdon was the stunt coordinator in this episode. 

4
4
"Dojo Day Afternoon"
Eric Dean Seaton
Jim O'Doherty
June 16, 2011
103[2]
0.8[5]

Arthur, the obnoxious son of the new mall owner, joins the Bobby Wasabi dojo, and Rudy bends over backwards to please the owner. But Arthur rubs everyone the wrong way, and after an altercation with Jack, Arthur's dad forces Rudy to kick Jack out of the dojo or he will bring in a wrecking ball and turn the dojo into a parking lot. Rudy proves his loyalty to Jack and the gang by chaining himself inside the dojo. Mr. Turner brings the wrecking ball to scare them away. The gang does not leave, though, and they get to keep the dojo because Arthur gets in trouble by his dad. Kim tries to get better stories to document on the news team.

Guest stars: Sterling Beaumon as Arthur, Noelani Bailey as Margaret and Jerry Kernion as Mr. Turner Co-stars: Jesse Daly as Crowd Member and Yumi Iwama as Mrs. Deguzman Note: Reuben Langdon was the stunt coordinator in this episode. Dan Brown (stuntman) was Sterling Beaumon's stunt double. 

5
2
"Swords and Magic"
Eric Dean Seaton
Eric Goldberg & Pete Tibbals
June 24, 2011
102[2]
1.5[6]

Milton prepares for a live-action role-playing battle (L.A.R.P.) but his friends don't want to participate because they think it's uncool (except for Rudy who thinks it sounds like fun). But after thinking of all the things Milton has done for them, they decide to join him and show up just in time to help him beat the Dark Knights and win the game. Meanwhile, Jerry tries to impress Kelsey Vargas but keeps lying to her.

Guest star: Harrison Boxley as Sidney (credited as "Dark Knight King") Co-stars: Sydney Sweeney as Kelsey Vargas and Cody Shriner as Dark Knight Wizard 

6
8
"Road to Wasabi"
Sean McNamara
Marc Warren
August 5, 2011
104[2]
1.1[7]

Rudy throws himself a birthday party, and an unprepared Jack scrambles for a gift. When Kim reveals her gift to Rudy, an autographed picture of Bobby Wasabi, Jack one-ups her and recruits the former international movie star Bobby Wasabi to make a surprise visit. Unfortunately, Rudy doesn't recognize his hero and is fired from his job after he accidentally flips Bobby and is fired. Rudy decides to get a job at Reptile World. Jack and the gang visit Bobby's mansion to convince Bobby to rehire their sensei. Jack and Kim are paired up with each other and Jerry, Eddie, and Milton are a group. Jack and Kim (the others were watching)defeat the ninjas and get Rudy's job back. Guest stars: Peter Oldring as Lonnie and Joel McCrary as Bobby Wasabi 

7
9
"All the Wrong Moves"
Shelley Jensen
Marc Warren
August 12, 2011
110[2]
1.0[8]

Jerry signs the gang up for the "Hottest Dance Crew Competition" at the mall, but quickly learns they can't dance. Smooth (Roshon Fegan), the Step Brotherz, offers Jerry a spot on his crew and he eagerly joins. But when Smooth steals Jerry's signature dance move for the competition, Jerry realizes he betrayed his friends. In the end, they didn't get first place but they get the best individual move. Meanwhile, Rudy and Marge host an infomercial for Pocket Ninja but Rudy messes up.

Special guest star: Roshon Fegan as Dan "Smooth" Brennan Guest stars: Loni Love as Marge and Brooke Dillman as Joan Co-stars: Tristin Mays as Vanessa and Jack Griffo as Benny 

8
6
"Ricky Weaver"
Shelley Jensen
Dan O'Keefe
July 22, 2011
108[2]
2.7[9]

Kim is ecstatic when teen pop sensation Ricky Weaver shows up at the dojo to ask her to dance with him on stage at his upcoming concert. But after Ricky tells Jack that he makes a move on a girl then dump her at every concert, Jack tries to warn Kim about Ricky's intentions. Kim eventually realizes what a jerk Ricky is and apologizes to Jack. In the end, Jack asks Kim if she wants to go out to eat and she says yes. Meanwhile, Rudy and the rest of the gang form a boy band called the "Black Belt Boys" and try to open for Ricky Weaver to get girls to like them.

Guest star:: Austin North as Ricky Weaver and Morgan Smith Co-stars: Dan Ahdoot as Falafel Phil, Danilo Di Julio as Photographer, Clinton Jackson as Mr. Squires and Grace O'Doherty as Grace Note: Ricky Weaver and Weaver Fever are parodies of Justin Bieber and BieberFever. 

9
7
"Wax on, Wax off"
Neal Israel
Danny Warren
July 29, 2011
112[2]
1.5[10]

As a reward for winning the Bobby Wasabi Inter-Dojo Tournament, Bobby sends over a life-sized wax statue of himself. Jack and Jerry get a sign that says we're #1 but then there is a black out. Jack and Jerry must find a way to keep the statue cool. Meanwhile, Kim and Milton turn the mall courtyard into a beach and start charging for chairs and sunblock because Kim needs to pay for her texts. Milton is tired of being bossed around by Kim and quits. In the end, the wax statue melts but Bobby forgives them.

Absent: Alex Christan Jones as Eddie Special guest star: Ron Fassler as Dale Davis Guest stars: Joel McCrary as Bobby Wasabi, Brooke Dillman as Joan, Dan Ahdoot as Falafel Phil Notes: Ron Fassler reprised his recurring role from Disney XD's Zeke and Luther and appeared again as Dale Davis in another Disney XD series Pair of Kings in the episode An Ice Girl for Boomer. This is the first time that Eddie (Alex Christan Jones) was absent for an episode. Also, in this episode, the line of the theme song that normally says "this is how we do" has been changed to "that's just how we do," and the voice is different. 

10
10
"The Commercial"
Neal Israel
Danny Warren
August 19, 2011
106[2]
3.1[11]

Rudy discovers his natural acting ability and hires Jerry as his manager, but when Rudy freaks out during the audition, Jack tries to help him out and ends up booking the lead role of Pomegranate Man. Meanwhile, Milton's perfect GPA is threatened when a baking assignment leads him to become a crazed tyrant chef.

Guest star: Jonathan Kite as Terrence Co-stars: Barry Finkel as Mr. Pedesta and Van Epperson as Lou 

11
11
"Kung Fu Cop"
Shelley Jensen
Edward C. Evans
October 21, 2011
111[2]
0.9[12]
When Jack falls asleep watching a Bobby Wasabi movie, he dreams that he and the rest of the gang are in a 70′s disco-themed detective movie. Jack must try to crack the case of sassy damsel, Snowflake Jones' (Kim), missing Dragon's Eye necklace. Against the wishes of the Chief (Eddie), Jack sets out, with the help of his partner Bobby Wasabi (Rudy), and questions the potential suspects, including a glam French horn rock star named Milty Moondust (Milton) and La Boca the snitch (Jerry). It turns out to be Chief Eddie. 
12
12
"Boo Gi Nights"
Eric Dean Seaton
Eric Goldberg & Pete Tibbals
October 28, 2011
109[2]
1.0[13]

The Bobby Wasabi gang is determined to stop the Black Dragons from ruining the mall's annual Halloween Boo-Stravaganza. Jack assures the others that he's not afraid of the Black Dragons, or anything else for that matter. But when a sales rep from Circus Burger enters the courtyard, Jack comes unglued, revealing his biggest fear- clowns. When the Dragons use their newfound discovery against him, Jack tries to take down the posses blindfolded with the help of his friends. Meanwhile, Rudy meets a mysterious woman in a cat costume and tries to find out her true identity. In the end of the episode, Rudy finds out she is Jerry's mother, much to Jerry's shock.

Guest stars: Wayne Dalglish as Frank, Loni Love as Marge, Dan Ahdoot as Falafel Phil and Stephanie Arellano as Catwoman (Jerry's mom) Co-stars: Teo Briones as 5 Year old Jack, Dave Bushnell as Clown and Ric Sarabia as Clown Note: Matt Berberi was Mateo Arias' (Jerry's) stunt double. When Rudy tells Jerry about the girl in a cat costume Jerry says "Crazy Steve" which is a character from the hit Nickelodeon comedy show Drake & Josh (where Arias once made a guest appearance). 

13
13
"The Clash of the Titans[2]"[14]
Shelley Jensen
Frank O. Wolff
November 18, 2011
115[2]
0.7[15]

Milton falls head over heels for Julie, a girl in his chemistry class so Jack and Kim try to get them together. But when Julie's uncle, Sensei Ty from the Black Dragons, bans them from seeing each other, Milton and Julie decide their feelings for each other outweigh the rivalry between their dojos. Meanwhile, Jerry and Eddie vie to be the best rappers. Guest stars: Wayne Dalglish as Frank, Hannah Leigh as Julie, Ian Reed Kelser as Sensei Ty and Brooke Dillman as Joan 

14
14
"Badge of Honor"
Michael Kelly
Jim O'Doherty
November 25, 2011
113[2]
0.7[16]

After Milton accidentally thwarts a robbery in the mall, Joan gives Milton a badge and makes him an honorary security guard, but Milton's newfound power is put to the test when a band of robbers steal from the dojo. Meanwhile, Jack and Kim teach Rudy to skateboard.

Guest stars: Brooke Dillman as Joan and Dan Ahdoot as Falafel Phil Co-stars: Evan Hofer as Randy, Jullian Dulce Vida as Daryl, Scott Loftin as Butch, Vladimir Sizov as Bodybuilder and Walter Pridgen as Health Inspector 

15
15
"The Great Escape"
Eric Dean Seaton
Andrew Lee
December 2, 2011
117[2]
0.9[17]

Jerry gets detention after he takes the heat for Milton's prank; so Jack and the gang try to find a way for Jerry to escape. Problems rise when detention lands on the same day as the big tournament his family is planning to attend, so Milton disguises himself as Jerry so he can compete. Rudy has to watch Phil's goat after doing him a favor and develops feelings for it.

Guest stars: Dan Adhoot as Falafel Phil and Richard Riehle as Mr. Coburn Co-stars: Evan Hofer as Randy, Sean Moran as Mr. Slugman and Livia Treviño as Miss Davis 

16
16
"Dude, Where's My Sword?"
Shelley Jensen
Marc Warren
February 10, 2012
120[2]
0.7[18]

When Rudy goes on a road trip with Bobby Wasabi and Falafel Phil, the gang throws a party in the dojo where Rudy's prized Katana sword goes missing. Jack, Kim, and Milton need to quickly find a replacement before he returns. They find a replacement, but it's $500. Milton finds a French horn, trades it with the items they brought in, bought the Katana sword, and was the clerk's new boss. When they did that, Jerry and Eddie were cleaning up the dojo when they found out that a grape juice stain was stick on the wall.

Guest stars: Joel McCrary as Bobby Wasabi, Dan Adhoot as Falafel Phil and Eddie Pepitone as Lou Co-stars: Michele Specht as Carlotta, Paul Zies as Dwayne, Thomas Kasp as Kevin, Najee Muhammad as Nerd and Michael Icenogle as Nerd #2 

17
17
"Breaking Board"
Shelley Jensen
Edward C. Evans
February 17, 2012
116[2]
0.8[19]

While practicing for a speed board breaking competition, Jack accidentally kicks Jerry in the ribs and he ends up at the hospital where Kim volunteers as a candy striper. While visiting, Milton and Eddie find themselves in the maternity ward and accidentally get the babies mixed up, and Jack feels guilty for kicking Jerry in the ribs so he quits the breaking board competition Meanwhile, Rudy wins free-food-for-life at Falafel Phil's but Phil doesn't want anyone to win the free-food-for-life.

Guest stars: Dan Ahdoot as Falafel Phil and Phyllis, Marc Evan Jackson as Doctor Rose and Travis Johns as Duke Evans Co-stars: Carrie Reichenbach as Misty Paul, Donna Pieroni as Nurse Pat and Jett Patrick as 7 Year Old Jack. 

18
18
"Reality Fights"
Sean Lambert
Jim O'Doherty
March 2, 2012
118[2]
1.0[20]

The gang competes in Bobby Wasabi's new martial arts reality show 'Wasabi Warrior,' hosted by Rudy, where the close knit friends form secret alliances without Jack because they worry that he is the biggest threat to all of them. But soon after voting Jack off, Jack finds a way to get back in the game. Meanwhile Jerry, Milton, and Eddie find out that Kim is planning to get them all voted off the Game show. Guest star: Joel McCrary as Bobby Wasabi 

19
19
"Kickin' It in China"
Eric Dean Seaton
Edward C. Evans & Byron Kavanagh
March 9, 2012
119[2]
0.9[21]

Jack goes in the Junior world martial arts championships in China. However, there he comes face to face with his cousin Kai, the only person who has ever beaten Jack. Later, Jack is unsure if he can beat Kai. Meanwhile, Milton, Eddie and Jerry get lost after trying to find out the meaning of a fortune they got.

Guest stars: Troy Romzek as Kai, Aren Marayuma as Pei Pei and Matthew Moy as Shen Co-stars: Brian Fong as Official and Donald Li as Doctor Chen 

20
20
"The Wrath of Swan"
Neal Israel
Danny Warren
March 16, 2012
114[2]
1.0[22]

After Jack turns down Kim's invitation to be her date at the Swan Court Cotillion Ball, she asks Brody (Billy Unger), a new kid in school. But when Jack suspects that Brody is from the Black Dragons, the gang springs into action to tell Kim the truth. Meanwhile, Rudy helps Eddie with the Explorer Scout's Pinewood Derby.

Special guest star: Billy Unger as Brody Guest stars: Wayne Dalglish as Frank, Kaylee Bryant as Carrie and Brooke Laver as Jennie Co-stars: Dale Waddington as Miss McCrossin, Kevin Brief as Scout Master and Michael William Arnold as 12 Year Old Rudy 

21
21
"Rowdy Rudy"
Marc Warren
Jim O'Doherty & Dan O'Keefe
March 30, 2012
121[2]
0.8[23]

Out of anger, Rudy flips a professional wrestler and becomes an internet sensation. Jack gets in a fight at school under the influence of Rudy and gets detention. So, to settle things with the professional wrestler, Rudy decides to wrestle against him in a match. But when Rudy is overtaken during the match, Jack jumps in to help. Meanwhile, Kim helps Milton when he thinks that Julie wants to kiss him, and ends up kissing Milton out of pure exasperation.

Special guest star: Jason Sehorn as Announcer Guest stars: Dan Ahdoot as Falafel Phil, Hannah Leigh as Julie and Matthew Willig as Mondo Co-stars: Sharon Sachs as Aunt Gerty, Jill Lamarr as Old Lady, Estaban Cueto as Mongo and Nate Smith as Crowd Guy 
Season 2 (2012)
Edit
No. in

series

No. in

season

Title
Directed by
Written by
Original air date
Prod.

code

U.S. viewers

(millions)

22
1
"Rock 'Em Sock 'Em Rudy"
Rob Schiller
Dave Bickel
April 6, 2012
203[2]
0.6[24]

Rudy must fight for his job when he is replaced as Sensei by a futuristic robot, the Wasabitron 3000. Milton and Eddie build their own robot to try and destroy the Wasabitron 3000. Note: In the beginning of the episode Milton goes to Build-a-Bunny to get Julie a bunny. Build-a-Bunny is a parody of Build-a-Bear. 

23
2
"My Left Foot"
Eric Dean Seaton
Glenn Farrington & Geoff Barbanell
April 13, 2012
201[25]
0.5[26]

Milton becomes the Seaford High kicker when, at a try-out, he kicks a fifty-yard field goal. Eddie tries to ask Grace out. Guest star: Dan Adhoot as Falafel Phil 

24
3
"We are Family"
Rob Schiller
Joel McCrary & Itai Grunfeld
April 20, 2012
204[2]
0.8[27]

Phil's goat Tootsie is taken hostage by Jerry's new boss, The Meatball King, so Jerry has to confront him. Meanwhile, Eddie thinks he took a pretzel from the pretzel cart without paying for it. Guest stars: Dan Adhoot as Falafel Phil, Joey Diaz as The Meatball King, Brooke Dillman as Joan and Ethan Wilde as Dirk 

25
4
"Eddie Cries Uncle"
Sean McNamara
Jim O'Doherty
April 27, 2012
206[2]
0.7[28]

The gang keeps attempting to win on their schools basketball team, but they always lose. They soon find out that the world famous Harlem Globe Trotters are coming for a special contest. They thought that they might have an advantage because Big Easy, one of the members, is supposedly Eddie's uncle. But, when Eddie accidentally wins the contest, he is faced with the fact that they are not related. So, with the help of Jerry, he convinces Big Easy that they are related. Which at the end of the episode, Eddie finds out that he knew all along that they weren't related.

Special guest stars: Harlem Globetrotters as Themselves Guest stars: Loni Love as Marge and Dan Adhoot as Falafel Phil 

26
5
"Skate Rat"
Neal Israel
Glenn Farrington & Geoff Barbanell
May 4, 2012
207[2]
0.6[29]

When the gang's regular skate park closes, they ask Rudy to ask his former classmate, who owns a bunch of skate parks, to build one for Seaford High. But the place where it is going to built is the home of a rare rodent. Kim stands up to protect the rodent's home and at first Jack disagrees with her. Luke pretends he is going to protect the rodent but is really going to get rid of it to build the rink to sell his merchandise. Jerry and Eddie become the testers of skating gear to impress some cute girls. Guest stars: Alex Lowery as Chelsea and Daniel Booko as Luke 

27
6
"Capture the Flag"
Rob Schiller
Itai Grunfeld & Joel McCrary
May 11, 2012
208[2]
0.7[30]

Eddie is selected to be the head of the float Committee. Rudy tells him that kids from Swathmore stole the flag off of his float back when he was in high school and his reputation was ruined. The gang tries to help Rudy gain his reputation back. Meanwhile a girl from Swathmore challenges Kim to a pageant. Guest stars: Katherine McNamara as Claire 

28
7
"It Takes Two to Tangle"
Rob Schiller
Jim O'Doherty
June 15, 2012
211[2]
0.5[31]

Rudy runs into in an old rival from his past at a tournament in San Francisco. Meanwhile, Milton flips Jerry and thinks that he has awakened his inner voice. So he abandons his friends and instead decides to give people advice.

Absent: Olivia Holt as Kim

Guest stars: Matt Mullins as Trent Note: This is the second time a cast member is absent in an episode, the first time was Alex Christian Jones in "Wax On, Wax Off." 

29
8
"Buddyguards"
Sean Lambert
Glenn Farrington & Geoff Barbanell
June 22, 2012
213[2]
0.6[32]

When Jack and Jerry save the lead singer of their favorite band, they become his bodyguards. But they find out that one of the other members of the band is out to get him. Rudy, Milton, and Eddie run Phil's restaurant while he is away. Absent: Olivia Holt as Kim 

30
9
"Dojo Day Care"
Sean McNamara
Byron Kavanaugh
June 29, 2012
212[2]
0.6[33]

The boys take care of the Principal's baby, but he crawls away, making Jerry and Jack scramble to find him. Meanwhile, Rudy and Joan coach Gracie Bell, Joan's niece, in the Little Miss Seaford pageant.

Absent: Olivia Holt as Kim Note: The construction site scene is based on the 1994 film Baby's Day Out. 

31
10
"Indiana Eddie"
Victor Gonzalez
J.B. Cook
July 20, 2012
202[2]
0.8[34]
The gang tries to help Eddie with his dream of becoming an archeologist. They go on a treasure hunt through the forests of Seaford, while Rudy and Phil try and find a cricket that's hiding in Phil's restaurant 
32
11
"Kim of Kong"
Sean Lambert
Dave Bickel
July 26, 2012
209[2]
0.8[35]

When Kim tells Jack she is bored of sparring with Milton, Jack begins to spar with her instead. But when Jack lets Kim win , she becomes angry and demands a fair rematch. They fight in a virtual world in an arcade where neither of them hold back. The game is called "'Immortal Slayer". Meanwhile, Lonnie gives Jerry and Eddie a prize lizard, telling them to take extra care of it. However when they lose it, they decide to dress up as a lizard and a moth, in hope of finding it. Rudy and Milton build a miniature train town, and argue what to call it. It ends up being called Rudyville, but it gets crushed by Jerry and Eddie. Guest stars: Joey Luthman as Emmitt, Brooke Dillman as Joan 

33
12
"Kickin' It Old School"
Sean McNamara
Dave Bickel
September 14, 2012
214[36]
0.3[37]

Rudy is excited when he learns he may be elected into Seaford High's Hall of Fame, but he then realizes that he has to finish high school first. Eddie and Milton try to help Rudy get his diploma, so he can be in with a chance to be in Seafords Hall of fame. Meanwhile, Jerry falls for Phil's niece, Mika, and brags to everyone he is dating her. When Phil and Mika find out, they devise a plan to stop him.

Guest stars: Dan Ahdoot as Falafel Phil, Oana Gregory as Mika, Rachel Cannon as Bethany and Eric Nenninger as Funderburk

Co-stars: Michael Naughton as Chairman and Beverly DeLoatch as Dr. Hanft Absent: Olivia Holt as Kim 

34
13
"The Chosen One"
Sean Lambert
Byron Kavanaugh
September 21, 2012
218[36]
0.7[38]

The whole gang gets an opportunity to spend a weekend with the legendary Shaolin Warriors, and train with them. While they are there, the Grandmaster Po announces that Jerry is the chosen one who is destined to save the temple from a looming dark cloud. Jerry highly doubts this, but when he is treated like a king, doesnt protest. While this is going on Jack and Kim challenge each other to see who can walk the path of fire first. Neither of them manage it. Milton struggles to keep a vow of silence.

Guest stars: James Ryen as Zang Lu, Gerald Okamura as Grandmaster Po, James Sie as Yin Chen and Derek Mio as Wan Chi Co-star: Michael Sun Lee as Silent Warrior 

35
14
"Hit the Road Jack"
Sean K. Lambert
Jim O'Doherty
September 28, 2012
205[36]
0.5[39]

After a headmaster sees Jack fighting in a match he offers him a full scholarship to the world-renowned Otai Academy in Japan. Jack is overjoyed, but when he found out the scholarship was for 4 years,he starts to doubt about going. It is revealed in this episode that Kim and Jack have feelings for each other.

Guest stars: Brooke Dillman as Joan, Wayne Dalglish as Frank, Brennan Mejia as Zane and Harrison Boxley as Sydney Co-stars: Evan Hofer as Randy, Ken Narasaki as Tanaka, Madison Curtis as Lorie and Joey Luthman as Emmitt 

36
15
"A Slip Down Memory Lane"
Jim O'Doherty
Adrienne Sterman
October 5, 2012
0.4[40]

Jack sets out to break the record of most bricks broken under the age of 15, but before hand, Kim gives him a bracelet; which he thinks is a friendship bracelet. Exasperated, she almost blurts out that she thinks of them as more than just friends. She then runs out and Jack tries to follow her but slips and loses his memory. Despite the gang's attempts at getting it back, it's not until he looks at Kim before he breaks the record that it returns. After words, Kim asks Jack if he remembered anything before the fall. He says no but after Kim leaves, he takes out the bracelet and puts it on. In the end, Jack breaks the record. Note: Bobby and Joan are seen in the Romeo and Juliet play while Jack, Milton and Jerry are seen in Christmas elf outfits, the punchmaster they receive in "The Karate Games" is seen in the dojo; As of the airing of this episode, those three episodes had not yet been released. 

37
16
"Wedding Crashers"
Eric Dean Seaton
Byron Kavanaugh
October 12, 2012
215[25]
0.5[41]

When Bobby Wasabi is lonely, Mika suggests he get a girlfriend, but things get awry when he announces he is marrying a woman named Leona that he met the day before. Jack and Jerry get kidnapped by Leona's ninjas on the wedding day and find out she is the Black Belt Widow, a famous woman who marries then murders martial arts millionaires to steal their money, and that she is planning to kill Bobby and get to his money that same day.

Special guest star: Denise Richards as Leona aka the Black Belt Widow

Guest star: Joel McCrary as Bobby Wasabi, Oana Gregory as Mika Absent: Olivia Holt as Kim 

38
17
"Wazombie Warriors"
Sean Lambert
Dave Bickel & Byron Kavanaugh
October 19, 2012
0.5[42]

When Kim falls asleep watching a halloween movie, she dreams that all her friends have turned into zompyres - cross between zombies and vampires. Kim has to battle through, which is tricky, because she feels she is hurting her dearest friends - especially Jack. Her mission is to travel to the home of the zompryes, the school, (Milton is only one of her friends who isn't a zompyre) who has the only zompyre antidote. At the end Jack and Kim go to see another movie together. Guest star: Sadie Calvano as Lindsay 

39
18
"Sole Brothers"
Phill Lewis
Frank O. Wolff
October 26, 2012
0.5[43]

Jack and Jerry both start working at a shoe store in the mall, but run into trouble when Jerry is promoted to manager and Jack isn't.

Special guest star: Kyrie Irving as himself Guest star: Oana Gregory as Mika 

40
19
"All the President's Friends"
Eric Dean Seaton
J.B. Cook
November 2, 2012
210[25]
0.5[44]

While Jack is away on a family reunion, Milton (with help from Julie) and Jerry (with help from Eddie) run for class president against each other and Frank of the Black Dragons. Meanwhile Rudy asks Kim to help him direct the comunity play of Romeo and Juliet featuring Bobby Wasabi and Joan the Mall Security Guard (whom Rudy was forced to hire by Bobby after she and Bobby discuss about a Peacock parked on the loading bay). In the end the Black Dragons and Wasabi Wariors (Sans Jack) battle during the play, making the critic (an elderly man who bad mouthed his own daughter's ballet recital) extremely pleased. Note: While Leo Howard as Jack isn't absent from the episode, he only appeared for the first and last minutes of it. This episode features Jerry, Milton, and Kim beating the Black Dragons without Jack's help. Also, when Jerry prevents Frank from punching Milton, he says "I probably shouldn't have done that" a reference to Jack's catchphrase; "You probably shouldn't have done that" said nearly each time he went against Frank. Milton attends the play in a stand while dressed like Abraham Lincoln (in Julie's grandfather's suit) making the attack of the Dragons on him a nod to Lincoln's assasination. 

41
20
"New Jack City"
Sean Lambert
Joel McCrary & Itai Grunfeld
November 9, 2012
0.7[45]

Carson, an old friend of the gang and Rudy's former star student, returns to Seaford for a visit. His own martial arts moves prompt Rudy to replace Jack with Carson in the upcoming tournament, irking Jack. In a startling turn of events, Jack becomes a Black Dragon in order to compete against Carson in an honest karate bout. At the end Kim finds out that Carson is cheating, and Jack rejoins the dojo. Note: This is the second time Leo Howard and Boo Boo Stewart have worked together, the first time being the independent film Logan. Note 2: The episode title is a reference of the 1991 film of the same name. 

42
21
"Karate Games"
Rob Schiller
J.B. Cook
November 16, 2012
0.9[46]

Jack and Kim are chosen to star in a new action movie. But they discover that they are not just acting in the movie but they are also living it. Their characters are enemies but they are brought together by a kiss. However they do not actually kiss, although they nearly kiss two times in this episode- once for the movie, and another on their own. The director is taken to jail. Meanwhile, Rudy plays a contestant on a game show called "Box That Head". A gift from the mayor comes to congratulate Jack and Kim and it's a machine to help train you in karate. Frank tries to steal it but Jerry and Milton defends them selves and Eddie comes back to help defend the dojo with them in the end. Soon after Rudy gets back to the dojo, he overhears Jerry say that the host has idiots come on to the show, and no matter what box they choose, it's something unpleasant. After Jerry, Milton, and Eddie get shocked from Rudy's injured face, Rudy leaves with a bo staff saying "I've got to do something to a man named Wink." Note: The Karate Games is a parody of the 2012 action movie The Hunger Games

43
22
"Kickin' It On Our Own"
Sean Lambert
Jim O'Doherty
November 23, 2012
0.9[47]

Rudy leaves the dojo because of a new job that he can't say no to, and Ty and the Black Dragons end up buying it. They demote all the Wasabi Warriors to white belts and the five say good-bye and leave the dojo. When they meet each other again, after three months, they have all grown apart, and Kim has a boyfriend Brett. Ty tells Rudy that in order to gain the dojo back, the two dojos must compete against each other. Milton brings in his Aunt Jillian to get everyone in shape. Later at the tournament, the two dojos are at a tie, and to win the dojo Rudy has to go up against Kofi Kingston. Eventually he beats Kofi, and they win the dojo back. Kim breaks up with Brett telling him she "has feelings for someone else (Jack)". Jack overhears, and the episode ends as Jack and Kim skip practice to go on a date.

Note: This episode is a one hour episode as opposed to its usual half hour time. Special Guest Stars: Kofi Kingston as himself, George Wendt as Uncle Blake and Jillian Michaels as Aunt Jillian, Jimmy Deshler as Brett 

44
23
"Oh, Christmas Nuts!"[48]
Bill Shea
Matthew Edsall & Jana Godshall
December 7, 2012
0.6[49]

To teach the gang about the spirit of Christmas, Rudy volunteers Jack, Jerry and Milton to work at Santa's village. But when they are accused of stealing toys to be given to an orphanage and get banned from the mall, they are labeled as the "kids who stole Christmas". While the guys try to prove their innocence, Kim and Eddie battle it out in a holiday window display contest.

Note: This is the last episode with Alex Christian Jones as Eddie. Last appearance: Alex Christian Jones as Eddie 
Season 3 (2013)
Edit
On November 5, 2012, Disney XD renewed Kickin' It for a third season to begin production in 2013.[50]
No. in

series

No. in

season

Title
Directed by
Written by
Original air date
Prod.

code

U.S. viewers

(millions)

45
1
"Spyfall"
Sean Lambert
Jim O'Doherty
April 5, 2013
After attacking a secret agent in Phil's Restaurant who he thought was a thief, Jack has to take on the agent's role of protecting a Prince from assassination. 
46
2
"Dueling Dojos"
Sean Lambert
Byron Kavanaugh
April 12, 2013
When Rudy has to babysit a child as a favor to Grandmaster Po, he puts Jack and Jerry in charge of the dojo. But Jack doesn't like Jerry's ideas so Jerry decides to make Phil's restaurant into a restaurant/dojo called Judo Jerrys and competes against Jack. The child Rudy has to take care of turns out to be a huge troublemaker. 
47
3
"Glove Hurts"
Rob Schiller
Geoff Barbanell
April 19, 2013

Milton makes a pair of gloves that give people the strength of ten men for a science project and he shows them to his role model. But when Jack and Jerry suspect that his role model is an evil man, troubles arise. Absent: Olivia Holt as Kim 

48
4
"The Sub Sinker"[51]
Sean Lambert
Joel McCrary
May 3, 2013[51]
Jack, Kim, and Rudy have to babysit Rudy's girlfriends nephew; Milton is the new substitute teacher; Jerry is expelled after he is accused of throwing a massive spit ball at Milton. Jerry then uses his newfound math skills to catch the real culprit. 
49
5
"Meet the McKrupniks"[52]
May 10, 2013[52]
When the gang accompanies Milton to a family reunion in Scotland, they accidentally awaken a century old feud between Milton's ancestors, the McKrupnicks and their giant counterparts, the McCrarys. Meanwhile, Rudy and Jerry set out to snap a picture of the Loch Ness Monster.
References
Edit
External links
Edit
Community content is available under
CC-BY-SA
unless otherwise noted.