The topic of this page has a wiki of its own: The 7D Wiki.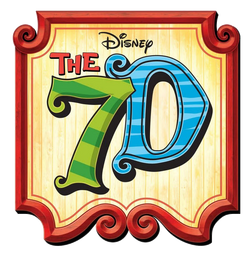 The 7D is a current animated musical comedy series produced by Disney Television Animation for Disney XD based on characters from the 1937 Disney film Snow White and the Seven Dwarfs, developed by Noah Z. Jones and executive produced by Tom Ruegger. The series feature the updated Seven Dwarfs -- Doc, Grumpy, Sneezy, Sleepy, Bashful, Happy and Dopey -- in the magical, contemporary world of Jollywood, with new characters. The series has its world premiere in the United States on July 7, 2014 on Disney XD. It was renewed for a second season on December 2, 2014. However, co-executive producer Mr. Warbuton announced on April 25, 2016 that the series was cancelled in January 2016 and the series finale would premiere in September 2016;[1] however, the final episodes slated to air for that month was pushed to October.[2][3] The series finale was scheduled for October 29, 2016; it was later moved to November 5.[4] The series also aired for a limited time on Disney Channel (including its Disney Junior on Disney Channel block) and Disney Junior the channel presumably as promotion for the series.
In the kingdom of Jollywood, the 7D work at their jewel mine underneath their cottage. They are also committed to protect the kingdom and its citizens -- Jollywood's ruler, Queen Delightful, summons them via the magical Bing Bong Bell whenever there's trouble. Most episodes feature the main villains -- Grim and Hildy Gloom -- who they longed to take over Jollywood usually by stealing powerful gems from the mine or any other means. The 7D's duty of protecting Jollywood was passed on from their grandfathers, the founding fathers of the kingdom, who long ago defeated an evil warlock ("The Jollywood Jam").
Major characters
Edit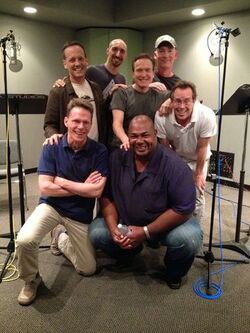 Doc (voiced by Bill Farmer): The leader of the dwarfs. Intelligent, he is the inventor of gadgets and machinery that helps the 7D in times of need. He always expect unexpected moments so much that he is always prepared when the time comes. His hat also housed many gadgets. In "Take Me to Your Grumpy" he is fascinated with rainbows. His catchphrase is "Hickory dickory me!"
Grumpy (voiced by Maurice LaMarche): Grouchy, he can be easily annoyed by anything, including Happy's singing, and he can be self-centered at times. He has a pet goat named Gizelle. He has a huge appetite, and his favorite snack is cheese. Despite his usual negativity, he does care for his friends and has shown compassion occasionally. His catchphrase is "For the love of cheese!"
Happy (voiced by Kevin Michael Richardson): Always keeping a sunny demeanor, Happy tends to look on the bright side. Most of the time, he's always shown with a smile. He has a knack for writing songs, and most of the songs on The 7D are sung by him while playing the guitar. His catchphrase is "Whoopty doopty schmoodly doo!"
Sneezy (voiced by Scott Menville): Friendly and helpful, Sneezy has many allergies caused by animals and flowers. He is known for giving out gigantic sneezes, many of which are so strong enough that it can blow anything away in his path. In "Welcome to the Neighborhood" he has a prized handkerchief collection. Although he is allergic to many animals, in "Take Your Pet to Lunch Day" he became friends (and his pet) with Sniffy, a griffin, because he is hypoallergenic. It's revealed in "The Enchanted Forest Ranger" the itchy bushes can cause severe rashes on his body. His catchphrase is "Beezers!"
Dopey (vocal effects by Dee Bradley Baker): Dopey doesn't talk; however can only communicate by whistling. He has a talent to emulate animal noises and imitate sounds made by inanimate objects. Dopey's heart is set on his love of animals, and is excellent in painting and performing magic acts.
Bashful (voiced by Billy West): In The 7D, Bashful is shown to be more shy than he was depicted in the film. He has the ability to camouflage ("The Rock of Sages") and is very skilled at hiding; at times he is behind another character or pops out at different locations. He can also be easily embarrassed. However, some episodes have him being brave if the situation calls for it. A recurring theme in the series has Bashful being in love with Queen Delightful. It is not known if Delightful knew about his crush, though she is very warm towards Bashful and gives him her affection as gratitude when he makes her day better. His catchphrase is "Floom!"
Sleepy (voiced by Stephen Stanton): Frequently tired, Sleepy is usually useless as he sleeps most of the time. Nevertheless, he does manage to save the day ("Gnome Alone", "Sleepytime", "In Yer Dreams, Pal"). He is good friends with the Sandman (who ensures people getting a good night's sleep) from the distant Land of Nod. His catchphrase is "Winkers!"
Queen Delightful (voiced by Leigh-Allyn Baker): The current monarch of Jollywood. With a warm, outgoing and silly personality, Delightful knows how to have fun. She loves her people, and usually put on celebrations or other events for everyone in the kingdom to enjoy. Her grand castle sits above Jollywood's village. Her royal pets include her dog Sir Yiplsot and her parrot, Squire Peckington (also voiced by Dee Bradley Baker), who sits on her crown that doubles as his perch in selected episodes. When there's trouble in Jollywood or just simply tasks that needed to be done at the castle, Delightful calls on the 7D using the Bing Bong Bell. Her skills include painting, yodeling, rollerskating and floor skating. Her voice resembles Snow White's in the Disney film. Her catchphrase is "Yaysies!"
Lord Starchbottom (voiced by Paul Rugg): Starchbottom (also called Starchy by the 7D) is the Queen's round-the-clock personal assistant, a job that requires him to live at her castle. He is at times snooty, and is often seen as the straight man to Delightful's silliness. However, he always remain devoted to her. Unfortunately for Starchbottom, he is frequently injured accidentally by the 7D's activities or other means. Because of this, in some occasions, he gets afraid whenever the 7D is being called. In "The Family Pickles", Starchbottom's past is revealed, including his real name.
Sir Yipsalot: (voiced by Bill Farmer): Queen Delightful's royal pooch. He almost always yips, hence the name given to him. On "Hildyrella", however, he can speak in English. His favorite snack is pickles. While Sir Yipsalot is a good pet, when he is in the wrong hands he can misbehave ("Sir Yipsalot and the Goose").
Hildy Gloom (voiced by Kelly Osbourne): A witch, she is the main villain of the series and Grim's wife. She plots to remove Queen Delightful from her throne and become ruler of Jollywood. She is spoiled and wants things her way. Hildy can be mean to Grim many times, but deep down she loves him. She is rivals with another witch named Snazzy Shazam (also voiced by Leigh-Allyn Baker) who always bested her. Hildy's biggest weakness is the sight and feel of slimy things. Her catchphrase is "I want it! I want it! I want!"
Grim Gloom (voiced by Jess Harnell): A warlock, he is also the main villain of the series and Hildy's husband. Dimwitted and childish, Grim frequently leads to his and Hildy's failures into achieving their goals. His love for Hildy is deep and at many times he does something special for her. His great-great-great grandfather ruthlessly ruled Jollywood many a year ago ("The Jollywood Jam"). His catchphrase is "Excee!"
Background
Edit
Announced in July 2012, The 7D was originally intended as a series for Disney Junior.[5] The dwarfs' new look was created by Fish Hooks creator Noah Z. Jones, who was also the series' character designer. (Jones later left the show after its first season to produce another Disney series Pickle and Peanut.) However, while the new series' preschool demographic was later expanded to include all ages and moved to Disney XD, so does the 7D's look, which was then tweaked.[6] The first episode produced, "The Littlest Giants / Gnome Alone", was animated in Flash.[7] Later episodes in production order are traditionally animated. From the beginning, The 7D is animated overseas by Toon City in the Philippines and South Korea-based Digital eMation; starting in the second season Wang Film Productions in Taiwan joined the aforementioned studios.
The songs in The 7D are composed by Parry Gripp, who also sings in some of them as well as the theme song.[8] The cast also perform the musical numbers. Many of the series' staff writers also contributed lyrics. The series' underscore are composed by Keith Horn with Gripp.
TBA
References
Edit
Community content is available under
CC-BY-SA
unless otherwise noted.